Pretty? You know it when you see it.
Pretty. It's hard to define, but you know it when you see it.
When the September issue of Down East magazine named Maine's 10 prettiest villages, as picked by readers, it probably didn't come as a surprise to most people west of U.S. Route 1 that they were all on the coast.
ADDITIONAL PHOTOS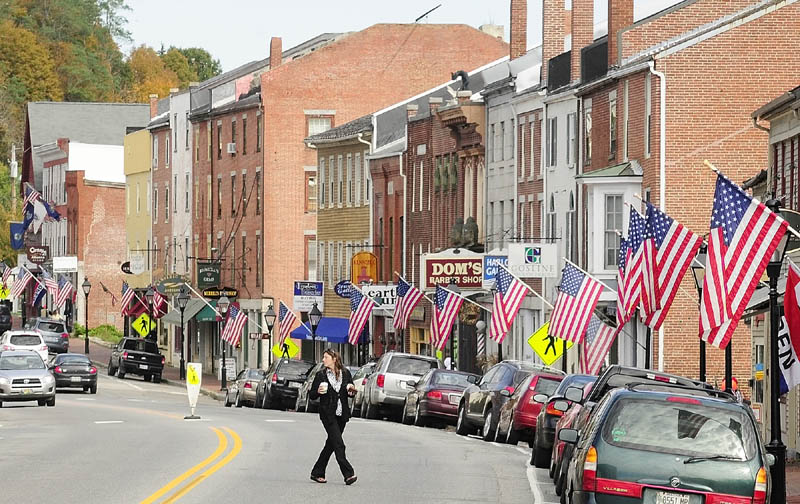 Staff photo by Joe Phelan A pedestrian cross Water Street recently in downtown Hallowell. Staff photo by Joe Phelan
Search photos available for purchase: Photo Store →
To be fair, it's a good bet that a lot of the readers who voted haven't been to central Maine. Still, there it was, "Maine's 10 Prettiest Villages."
To quote Down East: "Such a grand claim bears occasional examination."
And who better to do that than us? That said, my list isn't state-wide. That would just be silly. But I know our region.
Welcome to central Maine's 10 prettiest villages.
This list is arbitrary — no reader vote, just lots of driving and eyeballing.
Readers will disagree, that's expected. After all, prettiness is in the eye of the beholder. Some will demand their village should have been included because of its restaurants or museums or the exceptional quality of its residents.
Sorry. This is only about pretty.
Think of it as a beauty pageant — everyone knows it's not about what the contestant thinks about world peace or how she throws a baton — it's all about how she looks in a swimsuit.
Forget museums and restaurants, this is all about how the villages look in their swimsuits.
1. Kingfield
Ski Magazine has called Kingfield "the most beautifully preserved ski town east of Aspen," but no one who sees it needs to be told. It's all right there on Route 27 at the gateway to the western mountains — a Victorian fairytale downtown with a frontier feel set against the mountain backdrop of Sugarloaf, Mount Abram and Bigelow, and punctuated by the North and South Forks of the Carrabassett River.
It wears it well all four seasons.
Doug Marble, town administrative assistant, notes the mix of church steeples, classic New England pitched-roof homes, traditional bright Victorian colors, combined with that many of the century-old buildings are preserved and restored, contribute to the town's beauty.
It doesn't go unnoticed. It's praises have been sung in print and in cyberspace.
Kingfield pretty?
"Yeah, we get that a lot," Marble said.
2. Mount Vernon
Tucked into a nook at the tip of Minnehonk Lake, the village's collection of quirky, funky buildings is greeting-card cute. Being off the beaten path has its advantages — it's unspoiled and unaffected.
"The village has a lot of character, like an interesting old person who may have beauty but who also is filled with a lifetime of interesting stuff," village resident Sarah McSorley said.
It's scenic setting helps, but McSorley noted "its charisma and charm come from the eclectic bunch of people who live there and who maintain the village's small businesses."
Outsiders get it. "Tourists go around snapping pictures," McSorley said. "It's not just another pretty face."
3. Hallowell
In the early 1970s, the state wanted to bulldoze the center of town to widen U.S. Route 201. The townspeople revolted and the road remained unchanged. Hallowell's brick and wood 19th century downtown would make it one of the state's prettiest villages no matter what, but the addition of the majestic Kennebec River makes it striking. Centuries-old, well-preserved homes and buildings on the city's steep streets add to the charm.
Writer Katy Perry has lived many places in her 92 years "but no place has made me so happy." Every corner of the town brings her pleasure, from the trails in the woods, the wildflowers, to the view from up the hill where "you can look down on the river and it's just gorgeous."
The threat to the town 40 years ago hasn't been forgotten. Perry said residents and town officials "want to keep it small and livable and pleasant."
And if the bulldozers were to come back?
"There are many people who would lie down right in the middle of the road and say, 'You will not go there,'" she said.
4. Wilton
The former mill town on Wilson Lake managed to survive in the way a lot of othershaven't. The restored building, rather than being an eyesore, is an anchor to a village that makes the best of what it's got.
The foliage over Wilson Lake "is the best in the state," said Shannon Smith, chairwoman of the annual Blueberry Festival.
But the village's beauty isn't just limited to fall. "People just sit by the lake all winter and watch the lake change," she said. She said it's a "very caring community," has kept it from the fate of many towns.
5. Gardiner
Visitors who come in on U.S. Route 201 from the highway are familiar with the striking common surrounded by granite buildings and homes. They may be less familiar with the lively and attractive century-old brick downtown.
"I appreciate that the old buildings on Water Street actually look old," said artist Judith Schuppien, who has a studio at ArtDogs on Water Street. "Some of the classic beauties have been lovingly restored, but some of the architecture is sort of funky and a little battered. But it's all old, and all true in its own way, and none of it is pretending to be what it is not.
"As an artist, what I really love about Water Street is the way the light runs from west to east in the late afternoon when I step out of my studio, particularly in the winter," she said.
6. Belgrade Lakes
Jammed between Great Pond and Long Pond, and bisected by Mill Stream, the village's canopy of trees shades colonial homes for an old-timey feel.
It doesn't hurt that the village gets a lot of good press. Great Pond was the inspiration for the famous Golden Pond of Hollywood fame and visitors from all over the country spend the summer there.
E.B. White wrote about the "holy place" of his childhood in a 1941 essay, "Once More to the Lake."
While few could find the words, visitors to the village more than 70 years after White wrote about it know the feeling it brings: "Summertime, oh summertime, pattern of life indelible, the fade proof lake, the woods unshatterable, the pasture with the sweet fern and juniper forever, and ever, summer without end."
7. Wayne
Colonial buildings, green grass, and lake make Wayne a classic New England village that could have been invented by Hollywood.
Writer Betsy Connor Bowen, who first came to Wayne in the 1980s and is now a full-time resident, said its location where Pocasset Lake flows into the town's original mill pond gives it an extra something special.
After industry declined in town in the 19th century, it's natural beauty kept people coming back, Bowen said. Wayne is now "a vibrant mix of summer colonists and year-rounders" and "the well-kept houses along Main Street testify to the pride people take in the town."
8. Richmond
The river port on the Kennebec just north of Merrymeeting Bay has a quaint, well-kept downtown on the bank of the river and its historic homes are an eclectic mix, including a number of striking Greek revival buildings, many of which are old ship captain's homes.
The riverfront park at the river end of downtown, with a view of Swan Island, adds to the appeal.
9. Unity
The relaxing village surrounded by farmland in the northwestern reaches of Waldo County has both a college and a lake, but neither are apparent from the road. Yet the village's tree-lined center manages to be pretty on its own merits. The Field of Dreams park, with a winding walking trail, rail fences and well-tended courts and picnic areas are the icing on the cake.
10. Pittsfield
The town may be best known for being the home of Maine Central Institute, and the school's town-center campus adds to the ambiance.
But it's hopping downtown, with several parks along the Sebasticook River, make a pretty companion to the school.
And the town's classic 1904 library building — which two years ago was nearly doubled in size under a $1 million renovation project — is not to be missed. The Beaux-Arts building, listed on the National Register of Historic Places since 1983, was designed by New York architect Albert Randolph Ross after he completed the Carnegie Library in Washington, D.C.
Eye of the beholder
The reality of a top 10 list is that everyone has a better idea of what should be on it. When I sought comments for the list, I got more arguments about the picks than elaboration on the prettiness of the villages.
People were incredulous. Some actually laughed.
Mount Vernon's McSorley has a perspective on that. "I've heard people say Maine is about 30 years behind the times," she said. "Maybe we still have a sense of humility."
Maybe we do. It's easy to tout the tourist-luring classic coastal towns. Harder for people to recognize the beauty all around us — a blueberry field in October, a ridge with views of mountains in the distance, a canopy of trees or wild-flower punctuated town common.
Maine is one of the few states people move to just to be here, and there's a reason for that. From Camden to Kingfield and all points in between, above and below, point your car in any direction and you'll hit something that will make you understand why.
Maureen Milliken is an editor at the Kennebec Journal and Morning Sentinel. She grew up in Augusta and lives in Belgrade Lakes. Kennebec Tales appears the first and third Thursday of the month.